Elkhart County is bringing awareness to the plight of the homeless and those in poverty, and awareness of the resources that are available in our community.
In Elkhart County we have many wonderful agencies and we would like to showcase them while also offering resources to those in need.
Two events that are planned: 
Resource Fair, Friday November 19th from 10:00am-2:00pm @ Central Park Downtown Elkhart
Night Out, Friday November 19th @ the Salvation Army Goshen
Please help get the word out.  If you have additional questions, would like to donate and or would like to participate, please use the contact information below for additional details.
Chris Ulery – Saving Grace Advocacy Director  574-312-0591
Lori King – Guidance Ministries Director  574-296-7192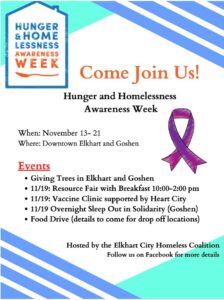 No Vax – Wear a MASK!